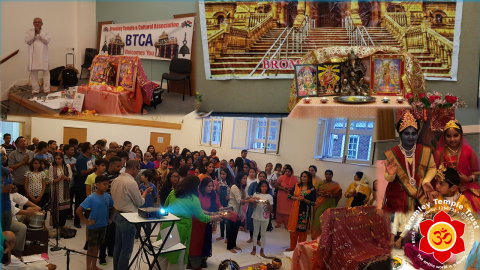 Bromley Mandir is a fantastic place to celebrate, praise and appreciate our religion; Hinduism. The mandir gathering, held once a month, gives Hindu families- living in and around Bromley- a chance to come together and pray- through performing poojas and singing bhajans. It also provides a platform to discuss religious, cultural, spiritual as well as current issues.
The mandir committee actively organises various family events throughout the year: religious festivities such as karva chauth and mata ki chowki, social and cultural evenings such as garba-dandiya and holi milan, sports events such as badminton and cricket tournaments, to name a few.
These events provide the large number of Hindu families in the area, a dedicated place to meet, socialise and form bonds with like-minded people. Participating with the whole family brings not only the family members closer but also the local community.
As the attendees come from various parts of India, they all bring together the different festivals and celebrations such as Ugadi, Vasant Panchami, Ganesh Chaturthi, Durga Puja, Diwali and many more, all with colourful traditional attires and scrumptious food!
In order to provide a dedicated space for the Hindu community to congregate, the committee members are actively working with members of the local community to raise the much-needed funds to construct "our own" mandir.
As a teenager myself, Bromley Mandir helps me to understand and respect our religion further than what I learn at home and school, and also provides a safe place to meet and socialise with new and old friends and families. Happily, everyone I know, young and old, feels the same too!